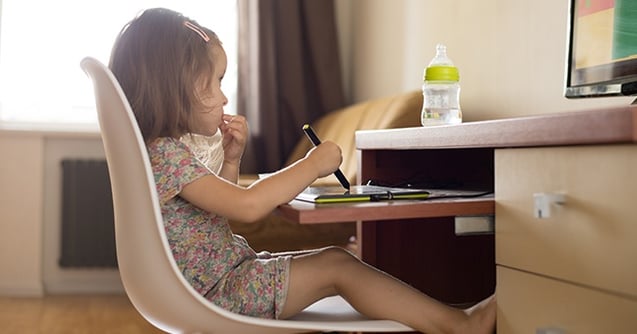 There's a reason Chromebooks are the #1 best selling device in schools in the United States, and why more than 20 million students worldwide are turning them on each day. Google Chromebooks have been a reliable option year after year because they make learning accessible and affordable without compromising security or forward-facing features.
And that's what makes the next generation of Chromebook that much more exciting.
Interactive touchscreen and stylus pens.
With touchscreen and stylus pens, the latest Chromebooks put the right technology in a student's hands right when they need it. Visual learners can watch it happen. Kinetic learners can sketch it out. Auditory learners can interact. And this is all before they even learn to type, code, write, and present—although it won't be long before that happens, too.
External camera.
The Chromebook's outward facing camera allows students to take pictures of their progress. This has numerous applications for reporting and presenting, as well as developing a better understanding of how others see the world.
Powerful, lasting charge.
Perhaps one of the most remarkable features of the newest Chromebooks is the USB Type-C charger, the dedicated super-fast charging adapter that will be the standard for Chromebooks to come, making it powerfully future-proof. This is especially helpful in school environments that share devices as it ensures technology is always ready for the next student.
Built-in security.
Privacy and security have never been more important, both to protect our students and our devices from malicious content. Google SafeSearch and YouTube Restricted Mode keep kids focused. Multiple layers of security thwart viruses, which means no external antivirus software is necessary to purchase or keep updated. Administrators are given complete control of the devices for testing and assessments. And Google is right there when you need them for 24/7 support and automatic updates.
Managed from the cloud. Deployed from the ground.
Chromebooks are 93% faster to deploy and 68% faster to manage than desktops; simply open up and go. Administrators can oversee an entire fleet of laptops from a cloud-based management console, changing apps as they see fit to account for testing schedules and policies. The sub 10-second startup means a faster start to the day; No downtime means more opportunities for kids to become independent, proactive learners.
Chromebooks have shaped education for a number of years, and they are only getting better, faster, and more affordable. Arey Jones is your educational technology partner in helping you close the digital divide. We'll help you find the right technology and peripherals, and we'll help you deploy them and keep you supported every step of the way.