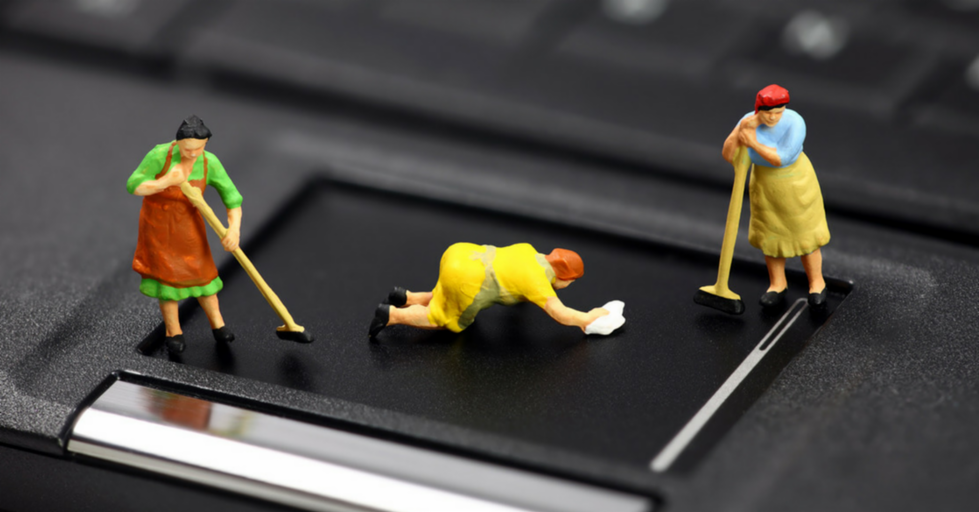 When spring finally arrives, it's not just classrooms, lockers and bookshelves that need a good cleaning but electronic devices as well. Just because a laptop case can be closed and a desktop shutdown, doesn't mean the clutter magically disappears. The good news is the same principles that apply to cleaning physical spaces work in digital ones just as well.
Create a space for everything and put everything in its place.
A well thought-out organization system keeps all your digital files in order. Create new folders in storage spots that you can easily access from anywhere. Google Drive offers free cloud storage for up to 15 GB.
Consider organizing your files in bulk by year, and clearly label each file and folder with its exact contents to save stress and energy. The more accurate your labeling now, the easier the file will be to find next year.
Once you've created a system to keep you organized, stick to it. A great organizational system can only save you time and enhance productivity if you use it.
Open and sort all your mail.
Start cleaning your inbox and then move on to your other folders. Gmail and Outlook both offer lots of ways to sort your email. Set rules to automatically sort emails from your teachers into a specific folder so they're easier to sort through. Learn how here.
Stock up on cleaning tools.
Microsoft's operating system comes with a host of cleaning tools, like Disk Cleanup. There are other options available for download, like Microsoft's Total PC Cleaner, from the Microsoft Store. Google Chrome also offers extensions that can help clear cache and delete browsing history. Try this handy guide if malware or viruses are a problem.
Use the trashcan and use it often.
Don't forget to trash the files you're not using anymore. A cluttered desktop is distracting and hard to use efficiently. Random files in their different formats are easily glossed over or even missed. And the icons for PDFs, Word docs and images don't always show what's inside. Keep this rule in mind, if you don't want to store it, don't keep it! Save only the items you need to find quickly or things you use every single day. Rely on your filing system for the others. Delete the rest.
Arey Jones works with the best partners that provide the latest edtech solutions for your school. Read more about who we are here.