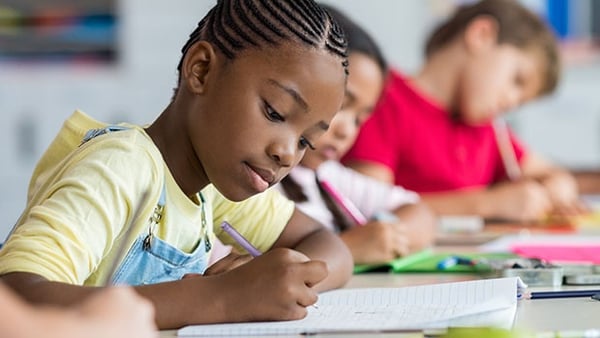 Do you remember a time when classrooms didn't have laptops or the Internet? Technological advances such as these have become such a huge part of our daily lives that most of us can't remember life without them, or even want to. But, believe or not, there was a time when photocopiers and handheld calculators were the height of educational technology. Thankfully most classrooms in the United States have graduated to bigger (or smaller), faster, more efficient technology. It begs to ask the question then, what will the classroom look like in the future?
Here's what we think:
Virtual Reality
Virtual Reality (VR) offers the ultimate immersion learning experience. It provides students with unbelievable, even otherworldly, experiences they can't get anywhere else - all without leaving the classroom. The benefits are many, including helping to develop empathy as students can personally witness communities in crisis or by allowing students to experience different careers through the eyes of a surgeon, soldier or other professional fields, plus it promotes curiosity and wonder. This technology is already available in classrooms. The Lenovo VR Classroom is being shipped out to schools across the country. The kit includes everything administrators need to introduce this type of immersion learning to students. We think it's just a matter of time before more classrooms catch on and VR becomes as common as a Chromebook.
Paperless Classrooms
Classrooms are quite possibly the one area where paper is still widely used, especially for younger students; but as apps and software improve, paper will disappear. Take Microsoft OneNote, which eliminates the need for handouts as it creates notebooks for each class, offers a collaboration space and holds all the content students need, like assignments and calendars. It even offers opportunities to communicate with parents. Don't forget Google Forms which take the place of worksheets, quizzes and paper tests. And, if your school isn't already sending newsletters electronically, we guarantee it will in the future.
Global Capabilities
The world is opening up to schools, both with speakers and knowledge networks. Classroom speakers are no longer regulated by who is available locally. With Skype in the Classroom, students in Indiana can hear from a speaker in Egypt about an archeological dig. Or students can questions directly to the author of the book they're reading. There are also several global learning networks that connect students by collecting and sharing data internationally about issues like The Globe Program and The National SEED Project. These global capabilities show students just how much in common they have with others across the world and we think it is destined to become commonplace in all classrooms.
What do you think will be a "must have" in classrooms in the future? Let us know in the comments.