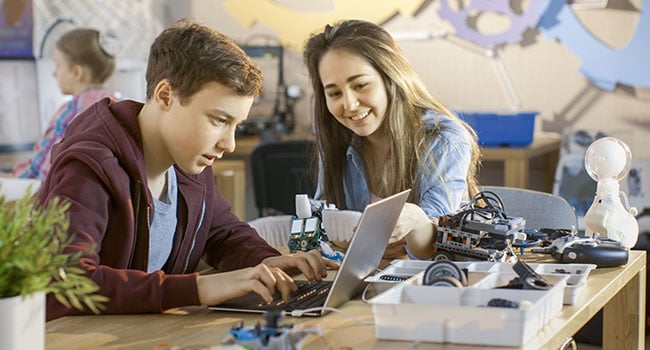 Fall semester is in full swing and if your teachers are already feeling overwhelmed, implementing some of our favorite edtech tools and techniques from our partners could be the answer.
Boost Productivity
When there's not enough time in the day, get more done with tech hacks designed to simplify your life.
Microsoft Outlook

offers

product

ivity and time management tools in its Calendar features. Use it

to set appointments

, reminders and even

organize your schedule by day, week or year.

Block out times when you're unavailable

– lunches, personal development time and vacations

– to

keep your staff

updated about your schedule

.

If

your school uses

Google

and Gmail,

Google Tasks

is the equivalent to Outlook. Google Tasks allow you to create multiple task lists, organized by grade, department, team, however you choose. You can reorder tasks, add subtasks and notes and even switch between multiple accounts (like your work and personal accounts) if you need to take some work home with you. But probably the biggest time saver is being able to create tasks from a Google search. Google "t your task" and press enter. Google will add whatever you type after "t" as your task, like "buy new Chromebooks."
Improve Communication
Eliminate the need to run down the hall every time you need to connect with a staff member.
Microsoft Teams

can keep everyone on the same page

.

Microsoft Teams

, which comes with Office 365, allows your staff to instant

ly

message each other and even set online meetings. The chat threads can be grouped so the administrative staff and the English department can all have their own thread. You can even set alerts so you know when someone has added a new comment or reached out to

you

directly.

Take Teams one step further by using

Flipgrid

and

OneNote

.

Flipgrid

is a video discussion platform

that

allows students to share their ideas, wonderings, projects and questions in new and creative ways. This social learning app is supported by

OneNote

, Microsoft's digital notebook. Teachers add the topics, students respond with short videos, and everyone engages.

The grids are communities built by educators and each has its own special code, which teachers can share with students. Educators can prompt students to engage with discussion topics or questions and also allow students to respond to their peers.
Save Time
It takes massive amounts of coordination, not to mention time, to plan field trips and even professional development outings. Save the hassle by using the classroom and staff room as home base.
Skype in the Classroom's

guest speakers bring learning to life for your school's students. There are hundreds of volunteer guest speakers from around the world that are available to sp

eak to your classrooms about an endless amount of topics from ancient Greece and desert exploration to the science of mosquitoes.

These guest speakers are experts in every subject area you can imagine as they are authors, scientists, engineers, zookeepers, etc.

Experts can also be virtually "brought in" for professional development.
Immersive technology, like virtual reality (VR) and augmented reality (AR) use software to help students see through time and space.

Scholastic

has an entire curriculum dedicated to integrating VR into STEM lesson plans

that allow

students

to

travel far beyond our solar system or down to a cellular level.
At Arey Jones, we partner with the best in the edtech business to provide the latest and greatest in software and educational services for K-12 educators and administrators. Contact us to see what solutions we can provide for you.