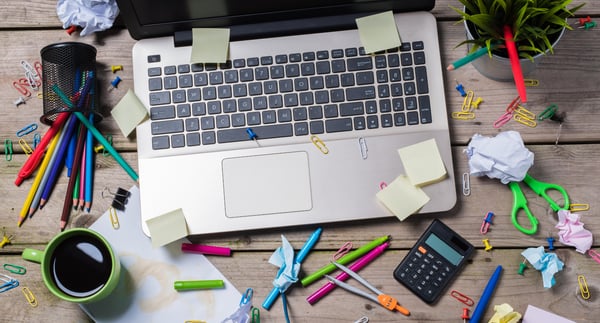 My grandmother fit every grandmother mold possible. Impeccable hair. Crisp aprons. Mouthwatering homemade bread on the counter. She ran a tight ship with even tighter hair. For Grandma, spring cleaning was as much a celebration as it was a chore (but then she always smiled most when she was working).
I have more than a little of her blood coursing though my veins, and now that the weather is shaking off winter's chill, I have the urge to clean as she used to do. And I can apply her methods to my phones, laptop, and tablet just effectively as I do everything else in my home.
Get sorted. While my grandmother had an eye and a hand for organization, my grandfather had a different method. Every weekend, she would group the mail, his receipts, and his tools and put everything back where they should have gone in the first place. Take the time to organize your documents and files in a system that makes the most sense to you, and delete files that are no longer relevant. For every minute spent here, you'll save twice.
Put the right things into the right storage. It's okay to hold onto things (I myself am pretty sentimental). The trick is figuring out where to put them so that they can be reached where you need them and out of the way when you don't. Consider organizing your files in bulk by year, and clearly label each file and folder with its exact contents. This saves you stress and energy, whether you are looking for Aunt Lucy's china or last year's lesson on volcanoes. And no, "Science stuff" doesn't count.
Clear your desktop. If Grandma could see my laptop screen, she would sigh, "Clutter, clutter, clutter, dear. How can you see what you mean?" It was an odd expression, but I understood it. If you save everything to the desktop, you'll never find what you really need. This works just as well for your desk as well as your desktop. Save it only for items you need to find quickly or things you use every single day. Rely on your filing system for the others. Delete the rest.
Clean your Windows. Grandma loved a clean window (even if the birds didn't). If you are running the digital version on your laptop, Windows 10 has a handy Disk Cleanup tool to clean up temporary and unnecessary system files that could be obstructing your computer performance. Use this handy guide for additional information.
Empty the trash. Now that you've gotten everything where you want it, it's time to remove what you don't need once and for all. My grandma always emptied the trash as the last part of her cleaning routine, grabbing a bag and hitting every bathroom and bin on her way out the door.
Grandma made the most of everything (I can still taste her creative leftovers), and I hope these above tips help you make the most of your time and managing your technology this spring. If you found any of these valuable, we'd love your feedback--follow us on Facebook for more!