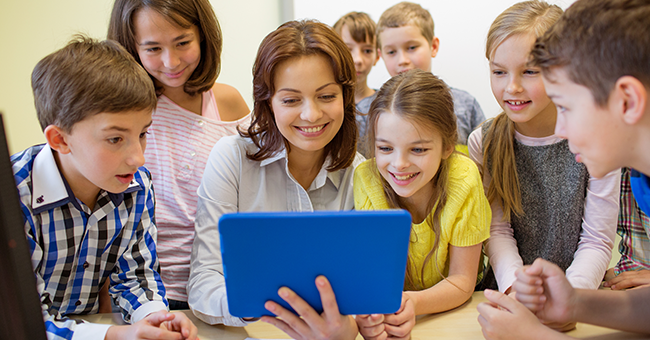 While the New Year for the rest of the country started on January first, most teachers would agree their "new year" started last fall--and so did all of their goals for the school year. That said, January is the perfect time to review those goals, establish new parameters, and determine if they need to be adjusted.
And using technology is a great way to do it.
We at Arey Jones are a big fan of the S.M.A.R.T. method of goal setting, a way of setting Specific, Measurable, Achievable, Relevant, Time-bound goals. And when it comes to tracking and tackling targets, we dream big--and we dream in spreadsheets, calendar reminders, forms, and fonts - all in Google Drive.

Specific: Write Down Your Goals in Google Docs
On top of being portable and flexible, Google Docs allows you to share your goals with relevant people in your life, and they can leave comments of support, hold you accountable, or add resources to help you along. How you phrase your goals is an important part of the process, and it's important to keep these things in mind:
What do I want to accomplish?
Why is it important?
Where must I focus my energy and time?
Who is involved in its success?
Which resources will help me succeed and which hurdles will make it more difficult?

Measurable: Using Google Forms to Track Progress
A SMART goal is a measurable one, and Google Forms is a relatively simple tool with many versatile uses. Simple set up the form to input all the metrics you want to track on a daily, weekly, or monthly basis. From charting how many pages your class has read at home to keeping track of how many cups of coffee you've had each day, Google Forms is a highly-customizable tool that streamlines, validates, and consolidates answers and translates them into visible charts and graphs.
Achievable and Relevant: Using Google Sheets to Keep It Together
Some people have found additional success using Google Sheets to track goals. Unlike a software with a steep learning curve, Google Sheets is easy to use, personalize, and adapt to your goals. Use Conditional Formatting to help you stay on track and organize your goals by worksheet to keep your thoughts, relevant resources, and successes handy.
Time-Bound: Use Google Calendar To Set Reminders
If friends, forms, and spreadsheets don't hold you accountable, a daily reminder in your Calendar feed will. Create a fresh Google Calendar for your goals and set up small, actionable deadlines for the goals you want to work on today, next week, next month, and so on.
What are your goals for the next semester? We hope you're able to accomplish them, and if you need help, we're always happy to chat.