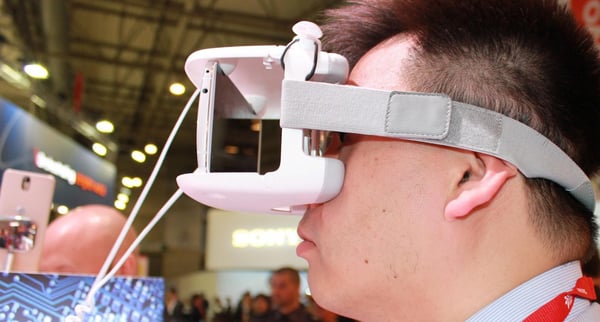 Imagine being able to take your students on a field trip to the African jungle, the solar system and even back in time to the creation of planet Earth. It's possible with the Lenovo Virtual Reality Classroom.
The Lenovo VR Classroom is now shipping out to schools across the country. The kit includes everything administrators need to introduce this type of immersion learning to students. The entire VR system is easy-to-use, easy-to-clean, highly-durable and offered in 3-, 10- and 24-student kits, but adaptable for up to 30 students.
The Specs
At the heart of the Lenovo VR Bundle is the Daydream VR headset. No cables, no PCs and no smartphones are needed to use it. Everything your teachers need is right in the headset. The Daydream VR also offers WorldSense™ motion tracking with a 110-degree field of view. And, bonus, the face and head cushions can be sanitized.
The Lenovo VR kit also includes:
The Tab 4 10 Plus which connects to the student's headsets, without disrupting the experience, and guides instruction to monitor student focus.
The Bretford Mobile Cart offers secure storage for the headsets and includes integrated device charging. It's made of sturdy steel, constructed in the United States and is certified for safety. Note - it is only included with the 10- and 24-student kits.
The Ruckus R510 Access Point gives stunning, enterprise-grade Wi-Fi performance. It makes sure there's a strong connection between teacher and student devices and is included with all kits.
Optional accessories are also available, like the Mirage camera with Daydream. This accessory allows teachers and students to create their own content that can be seamlessly uploaded to YouTube and Google Photos.
The Software
Virtual field trips go anywhere at any time, without the need of permission slips and bus rides, with experiences from Google Expeditions and The Wild Immersion with Jane Goodall.
The free Google Expeditions app has more than 700 virtual field trips. These can be integrated into included Scholastic STEM lesson plans that meet next gen Common Core standards. The environments support nearly every other subject as well.
The Exclusive Wild Immersion videos give students breathtaking views of Africa, Asia, the Amazon and more. Additional content is available from the Daydream OS store.
The Support
Rest assured, Lenovo has your back. Value-added services are included with every kit. Including:
A one-year school-year warranty that can be upgraded to two years.
Advanced Exchange for quick, no-hassle equipment swaps.
Premier Support with one direct number to call.
Device connection, testing, and access point provisioning all built in.
Full setup so you can open the box and go right away.
Virtual reality not only helps students keep up, but stay ahead in a world that's learning faster every day. Lenovo is leading the way with solutions to fit your school's needs. Contact us to see how we can help put this new technology into your teachers' hands.