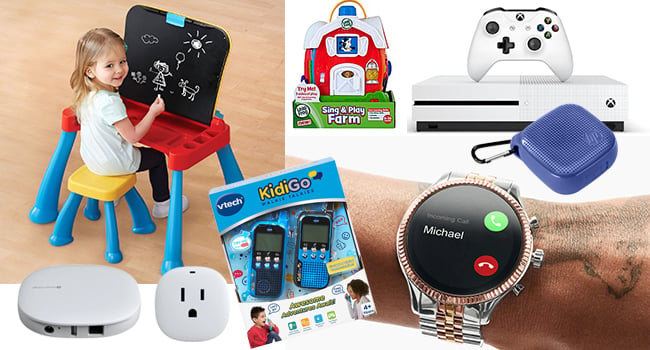 As silver white winters melt into spring, many parents complain of the already-forgotten holiday things; toys have been discarded, and gadgets are broken or low on battery. That's why, when selecting a gift, it's crucial to consider the long-term engagement potential and usefulness. The perfect gift is one that captures the recipient's interest for months or years to come.
As leaders in the field of technology, we're familiar with hundreds of noteworthy and interesting devices. For the end-of-year holidays and for 2020, here are a few of our favorite things.

For babies and toddlers.
· Anyone with kids knows that everything farm-related is a huge hit with the little ones. Leapfrog's Sing & Play Farm contains several fine motor-enhancing features to push, pull, and switch. Paired with five play areas and animal sounds galore, this toy is sure to keep their attention.
For young children.
· Vtech's Touch and Learn Activity Desk features dozens of educational, interactive activities. Four double-sided cards introduce letters, numbers, animals, and people. From vocabulary words, to an easel and chalkboard and musical melodies, there is always something new to explore.
· Let their imaginations run wild with these KidiGo Walkie Talkies. These two-way radios are kid safe and keep conversations secure from other radio users. The backlit, LCD screens also allow for the exchange of messages. Talk about endless entertainment!
For middle and high school students.
· Give the gift of gaming adventure with the Xbox One S Two Controller Bundle. The system, which includes two controllers, 3-month trial of Xbox Game Pass, and a 14-day trial of Xbox Live Gold, has impressive 4k Resolution. And with over 1,300 games to choose from, it will truly take your gift-ee to another world.
· Whether it's for a backyard birthday BBQ or a classroom dance party, this HP portable Bluetooth speaker makes getting the perfect tunes for any event, easy.
For any age.
· ASUS Chromebook Flip C434 is sleek, stylish, and boasts an amazing 87% screen-to-body ratio. It's no wonder that this beauty has attracted countless positive reviews from across the Internet universe.
· The SmartThings Hub provides the user with connectivity to all of their devices, such as lights, locks, speakers, and thermostats. Additionally, the SmartThings outlet, directed via app, gives the user the ability the control whatever is currently plugged into the outlet. Both of these make the perfect gift for a practical tech aficionado, or a husband who's tired of turning the car around to make sure the hair straightener is off.
· Anyone will feel like an incognito Inspector Gadget with Google's Wear OS watch. Keep track of fitness goals, get reminded of meetings, and become notified about texts and calls all from one smart piece of jewelry. Choose one to go with every style, and read more about the countless ways a SmartWatch can help simplify life.
For classrooms.
· Teachers have enough to do without having to answer a million, repeated questions. A Digital Vision Viewer Document Camera is a game changer in this regard; teachers have the ability to project a physical document for the whole class to see. Whether it's modeling a complex math problem, or projecting answers for a trade and grade, this helps save the teacher's voice (and sanity).
· With up to 14 hours of battery life, this Chromebook 3100 Education by Dell is durable, practical, and affordable, making it the perfect match for the classroom.
Here's hoping that one of our favorite things will also become a treasured belonging to one of your favorite people.